The Coat of Arms of the Taras Shevchenko National University of Kyiv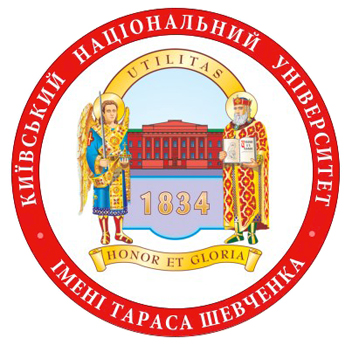 The Coat of Arms of the Taras Shevchenko National University of Kyiv
The coat of arms of the Kyiv University was designed by Sergei Belyaev in 1994 to commemorate the 160th anniversary of the university.
The main university building, the Red Building, is shown in the center of the composition and symbolical of its character as a treasure chamber of knowledge. The left half depicts the Archangel Michael, the patron saint of Kyiv, and the right half shows the Grand Prince Volodymyr, historically regarded as the patron saint of fundamental nature of knowledge, and whom the university was named after (until 1919).
1834 year of the university foundation comprises the central idea of the composition. The golden garters bearing the words "Utilitas, Honor et Gloria" surround the central picture. The text regarding as the motto of St. Volodymyr's Order determines the priorities of the university historical development.
The narrow red ring with the inscription "Taras Shevchenko National University of Kyiv" crowns the coat of arms.